Welcome!

This site will tell you about the group as it currently stands, the chemistry that we do and how to contact us if you are interested in applying.

News!!

May 2018
Congratulations to (now Dr) Younes Fegheh-Hassanpour for passing his viva!

A second synthesis of 6,7-DDSQ H5 is now online in Chem Comm! The synthesis, exploiting alkene protection against acid using a bromide substituent, was initiated by Hamad and completed by Hasanain.

April 2018
Younes and past Part II student Faisal's work on the ozonolysis of unsaturated tosylhydrazones as a direct approach to diazocarbonyl compounds is now online.


September 2017

Congruence Between Computation and Experiment: Yifei, Andrew and co-workers collaborative study with Kelvin Jackson and Rob Paton, on asymmetric induction in alkylations of chiral tropane-derived enamines, is online and Open Access at JOC.

Aubert's collaborative work with Oxford oncologists, on the cytotoxin Aruncin B and analogues, is online and Open Access at Chemistry A European Journal.

May 2017

Congratulations to (now Dr) Aubert Ribaucourt for passing his viva! Aubert is moving on to a postdoc with Josh Pierce at NC State University.

March 2017

6,7-DDSQ H5 made! Younes completes a long-standing synthetic objective in the Hodgson group, and the work has subsequently been published and is Open Access.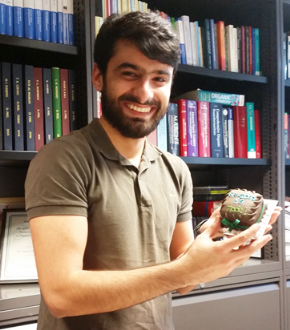 September 2016
The group welcomes new graduate student Pascal and new Part II student Faisal.
Aubert receives a prize for the best talk at the 3rd annual OxIOSCR conference in Oxford.
August 2016
Younes and Aubert attended the 252nd National Meeting of the ACS in Philadelphia, where they presented posters on their research.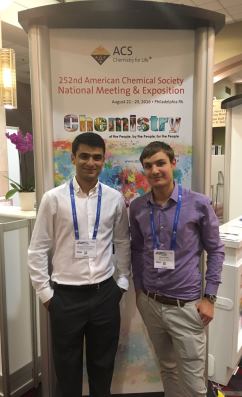 Aubert's work on the synthesis and structural revision of the cytotoxin aruncin B is online at Organic Letters.

June 2016

A review on "recent applications in natural product synthesis of dihydrofuran and -pyran formation by ring-closing alkene metathesis", cowritten with 5 of the current first year EPSRC CDT SBM cohort and Aubert, is online and Open Access at Organic & Biomolecular Chemistry. The review has been highlighted on the front cover of 14(25) and as a 'Hot Article'.

March & April 2016

Congratulations to Aubert, for winning the Chemistry World Poster Prize at the 19th International Symposium on Advancing the Chemical Sciences: Challenges in Organic Chemistry, held on 20-23 March in Irvine, USA. Aubert was also selected to present his work at the SCI 27th Regional (Southern UK) PG symposium on Organic Chemistry, held at Imperial College in London on 19th April.

January 2016

The group welcomes new graduate student Hasanain and postdoc Yifei.


September 2015

The group welcomes new Part II student JP.

Aubert presents a talk, and receives a prize for his poster, at the 2nd annual OxIOSCR conference in Oxford.

Claire's work, in collaboration with computational and NMR chemists at Oxford, to understand the origin of regiodivergence in lithiation–electrophilic substitution of substituted azetidines, is online and Open Access at JOC as a Featured Article.

Past postgraduate Saifullah's invited review on the "Hodgson cyclopropanation reaction", is online at Current Organic Chemistry, and will be part of a Special Thematic Issue on Selective Metal Carbene Reactions in Small Cyclic Compounds Construction.

May 2015

Congratulations to (now Dr) Claire Mortimer for passing her viva! Claire is moving on to a synthetic chemistry position at BioFocus (Charles River Laboratories), Chesterford Research Park.

January 2015

Johannes' and Chris' work - in collaboration with Tim Claridge and Barbara Odell, and Ilya Kuprov (at Southampton) - to understand the origins of apparently anomalous cross-peaks in 2D 1H NOESY spectra of C-substituted aziridines, is online and Open Access at Angewandte Chemie.

Claire's research showing a method for alpha-electrophile incorporation on azetidine, in which the t-Butoxythiocarbonyl (Botc) group, the long-neglected thiocarbonyl analogue of Boc, plays a crucial role, is online and Open Access at Organic Letters.

October 2014

Congratulations to Claire who was awarded a prize for her talk at the Department's DPhil Symposium.

The group welcomes new postgraduate student Younes and Erasmus+ student Heinrich.

Stan's, past part II Jade's and summer student Ziga's approach to the anti-HIV agent hyperolactone C and analogues using consecutive oxonium ylide formation-sigmatropic rearrangement (proceeding with high selectivity between subtly different acetal oxygen atoms) and acid-catalysed elimination-lactonisation, is online at JOC.

An updated review (with past post doc Emmanuel) on Oxiranes and Oxirenes: Fused-ring Derivatives (Comprehensive Heterocyclic Chemistry III), is now online at Elsevier Reference Module in Chemistry, Molecular Sciences and Chemical Engineering.




September 2014

The group welcomes new Part II student Ben.

Claire presents her work as a lecture at the RSC Heterocyclic and Synthesis Group Annual Postgraduate Symposium, at Vertex Pharmaceuticals.

July 2014

Congratulations to (now Dr) Chris Pearson, currently employed as a senior chemist in discovery chemistry at Evotec, for passing his viva!

June 2014
The group welcomes undergraduate summer student Chris Hall.

March 2014

Andrew's review, on Methods for Direct Generation of α-Alkyl-Substituted Aldehydes, is online at Tetrahedron and on the cover of 70(13).

January 2014

Chris' and visiting postgraduate Madiha's research showing a new and concise entry to valuable 4-membered azacycles, by in situ generation and alpha-functionalisation of the strained azetine system, is online and Open Access at Organic Letters.

October 2013
Congratulations to Chris who was awarded a prize for his talk at the Department's DPhil Symposium. Chris also recently presented his work at the AstraZeneca Collaborations Conference at Alderley Park, Macclesfield.

The group welcomes new graduate student Aubert Ribaucourt.

July 2013
Elena's, Stan's, and past part II Sophie's approach to the anti-HIV agent hyperolactone C and analogues using late stage conjugate addition on an oxonium ylide-derived spirofuranone, is online at Organic & Biomolecular Chemistry.

June 2013
The group welcomes visiting postgraduate students Iram and Madiha, and undergraduate summer students Ziga and Glenn.

May 2013
Congratulations to Andrew for passing his viva!

February 2013

A decade in the making, David, Agnès and Sengo's review on Cycloadditions of Carbonyl Ylides Derived from Diazocarbonyl Compounds is published in Organic Reactions. With ~300 pages of tables organised by substrate type and detailing all known reactions, this work provides a definitive review of these cycloadditions.

January 2013

Andrew's collaborative study with Rob Paton, on asymmetric induction in alkylations of chiral tropane- and homotropane-derived enamines, is online at JOC.

Chris' azetidine study, showing that electrophile incorporation with high levels of diastereocontrol is
possible, is online at JOC.

October 2012

Following his graduate and postdoctoral studies in the Hodgson group, Tanzeel has started a PDRA position with Willie Motherwell at UCL.

September 2012
The group welcomes Elena from Spain as she starts a postdoc for the next 6 months.

August 2012
Rosannes work on a convergent approach to conjugated 1,2-disubstituted E-allylic alcohols from two aldehydes is online at Organic & Biomolecular Chemistry.

Congratulations to Rosanne for passing her MSc(Res) viva! Rosanne is moving on to further graduate studies with Ray Andersen at UBC, Canada.

Saifullah's work on syn-B-hydroxyallylic silanes from terminal epoxide a-lithiation-silyation and alkenylation, and application towards the lytophilippines, is online at Organic Letters.

May 2012
Congratulations to Saifullah for passing his viva!

Eric's synthesis of the anti-trypanosomal agent hydroxyanthecotulide using Cr(II)-catalysed allylation is online at Chemical Communications and highlighted in the ChemComm blog.

January 2012

Congratulations to Eric for passing his viva, and for securing a prestigious Novartis Presidential Postdoctoral Fellowship which will be carried out at their site in Horsham and at University of California Berkeley, in collaboration with Dean Toste.

October 2011
Eric's work on the first synthesis of (+)-anthecotulide, by a protecting group free strategy using catalytic enantioselective enyne and Meyer-Schuster rearrangements, is online at Organic Letters.

July 2011
Stan's asymmetric synthesis of the anti-HIV agent (-)-hyperlactone C using oxonium ylide formation-rearrangement is now online at Chemistry A European Journal

April 2011
Congratulations to Tanzeel for passing his viva!

Eric gives a talk on his work at the ACS 241st National Meeting in Anaheim, and part of his studies on α-methylene-γ-butyrolactones is online at Organic Letters

October 2010

The group welcomes new postgraduates Claire, Chris, and Rosanne, and Part II students Sophie and Matthew.

September 2010

Tanzeel's work on a convergent and highly stereoselective method for the synthesis of trisubstituted allylic esters is online at Organic Letters

August 2010

Eric presents a poster on his work at the 3rd EuCheMS Chemistry Congress in Nürnberg, Germany.

July 2010

The Group welcomes visiting postgraduate Serdar Sezer, joining for a year from Turkey.

Carol's collaborative study with Jonathan Goodman at Cambridge, on the squalestatins involving a carbonyl ylide cycloaddition-rearrangement strategy, is online at Org. Biomol. Chem.

May 2010

Ruth's (and past part II Tom's) total synthesis of the Aristotelia alkaloid peduncularine, involving an efficient Lewis acid induced novel nitrogen-driven rearrangement iminiun-trapping cascade, is online at Organic Letters.

Naeem's collaborative study with Joann Um and K. Houk at UCLA on the origins of asymmetric induction in alkylations of his chiral piperidine enamines, is online at Chemistry-A European Journal.

March 2010

Preliminary studies by Johannes on a method for the α-incorporation of electrophiles onto azetidine, including the first example of an enantioselective electrophilic substitution on a four-membered ring, are online at Angewandte

January 2010

Saifullah's work on cubebol syntheses by intramolecular cyclopropanation of unsaturated α-lithiated epoxides is online at JOC, and will be the Cover Article of Issue 7.

December 2009

Johannes passes viva and will start postdoctoral studies in January with Frank Glorius at Munster, Germany.




October 2009

Saifullah awarded a prize at the annual Oxford Organic Chemistry Poster Session for second year postgraduates, sponsored by Pfizer.




September 2009

Andrew awarded a Lilly-sponsored prize from the Oxford Organic Chemistry Sub-Department, for excellence in the first year of postgraduate study.

Webmaster: Pascal Delany (pascal.delany@chem.ox.ac.uk)